Memorial Park Fundraising Initiatives
5th Annual Chicken BBQ Sunday Sept 21st 12 noon to 4:00pm Click here for more details
Starting in 2008:  With the help of EPCAMR, the HBPS was awarded over $12,000 in grant money from M&T Bank, Living Well Luzerne County Coalition, Future Farmers of America and ARIPPA.  In addition, donations (of money and time) from the community and individuals have been pouring in to help in the construction of the memorial park.  But the park is not finished yet…
Support the construction of the Huber Breaker Northern Anthracite Coal Field Miner's Memorial Park! The HBPS is working towards the development of a community park that will serve to recognize and honor the memory of the thousands that worked at the Huber Breaker and its surrounding collieries. The park will include walking trails through landscaped scenery, benches for relaxing, and educational kiosks with information on the history of the Breaker and the Anthracite Coal Region. The park will be located directly in front of the Huber Breaker site, at 101 South Main St. in Ashley, PA.
Currently, the HBPS has two ways in which you can easily support our efforts:
Buy-A-Brick

A beautiful way to preserve personal and family history while helping to build the walking trails for the park! Single bricks are available for a $2 donation. Share your memories with two lines of engraved text for $50, three lines for $75, or imprint your company or organization logo for $100 per brick. The bricks are ECO-TEK pavers made from abandoned mine drainage produced by R.I. Lampus Company in Springdale, PA. The iron oxide content of the reclaimed mine drainage provides the perfect "brick red" coloring for each of the custom pavers.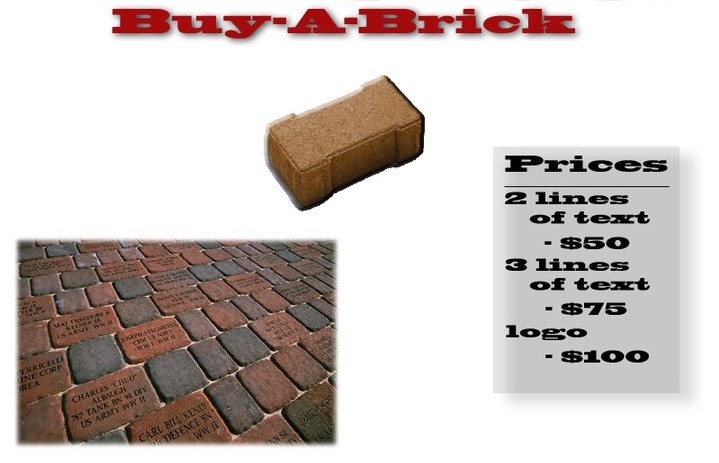 The text to be engraved must be less than 12 characters per line, 24 total characters for two lines, and 36 total characters for three lines. Text for names and inscriptions can be emailed to rhughes@epcamr.org. If a logo engraving is preferred, please send a high quality resolution .jpg/.jpeg image to the same email address.
Buy a T-shirt!
Want to share your pride for your roots in our historic Anthracite Coal Region? A brand new shirt design is now available! Designed from a sketch by Bernie Gavlick, original artist of the Miner's Memorial etching. Both t-shirts and sweatshirts are printed on "Sand":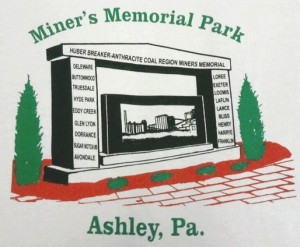 T-shirt
3-color (Adult Sizes)
S, M, L, XL …………… $15.00 (+S/H)
XXL ……………………… $17.50 (+S/H)
Sweatshirt
3-color (Adult Sizes)
S, M, L, XL …………… $22.00 (+S/H)
XL ………………………… $24.50 (+S/H)
Shipping and Handling Rates:
$6 for first shirt, $3 for each additional shirt
(the purchase of 3 shirts would be $12 total S/H).
Please use our order form to help support the Huber Breaker!