Memorial Park Fundraising Initiatives
Starting in 2008:  With the help of EPCAMR, the HBPS was awarded over $12,000 in grant money from M&T Bank, Living Well Luzerne County Coalition, Future Farmers of America and ARIPPA.  In addition, donations (of money and time) from the community and individuals have been pouring in to help in the construction of the memorial park.  But the park is not finished yet…
Learn more about the Huber Breaker Northern Anthracite Coal Field Miner's Memorial Park!
Currently, the HBPS has a few ways in which you can easily support our efforts:
Switchman Shanty Model Kit 
The HBPS is selling switchman shanty model kits as a fundraiser to help fund park project costs, including the restoration of the prototype shanty located at the park. The O scale (Lionel trains), kits are made by River Leaf Models. Owner Andre Garcia worked with Don Kane Jr to produce a model of an iconic structure used to shelter the switchman from inclement weather. The shanty models are easy to assemble, even for a novice, and are priced at $30 per kit. Orders can be made by contacting  Don Kane Jr at don195657@yahoo.com
Annual Chicken BBQ
HBPS has hosted a Chicken BBQ in September for several years now.  Tickets can be purchased ahead of time, and we recommend you do, because the full homemade meal plus dessert is affordable and sells out every year!  Please see our news page for more details.
Buy-A-Brick

A beautiful way to preserve personal and family history while helping to build the walking trails for the park! Single bricks are available for a $2 donation. Share your memories with two lines of engraved text for $50, three lines for $75, or imprint your company or organization logo for $100 per brick. The bricks are ECO-TEK pavers made from abandoned mine drainage produced by R.I. Lampus Company in Springdale, PA. The iron oxide content of the reclaimed mine drainage provides the perfect "brick red" coloring for each of the custom pavers.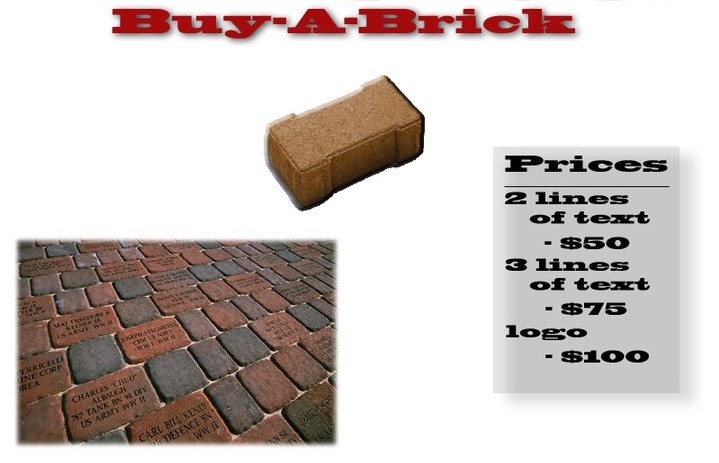 The text to be engraved must be less than 12 characters per line, 24 total characters for two lines, and 36 total characters for three lines. Text for names and inscriptions can be emailed to rhughes@epcamr.org. If a logo engraving is preferred, please send a high quality resolution .jpg/.jpeg image to the same email address.
Buy a T-shirt!
Want to share your pride for your roots in our historic Anthracite Coal Region? A brand new shirt design is now available! Designed from a sketch by Bernie Gavlick, original artist of the Miner's Memorial etching. Both t-shirts and sweatshirts are printed on "Sand":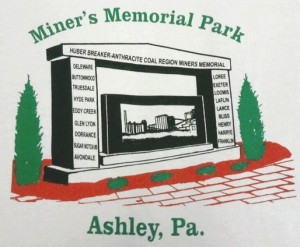 T-shirt
3-color (Adult Sizes)
S, M, L, XL …………… $15.00 (+S/H)
XXL ……………………… $17.50 (+S/H)
Sweatshirt
3-color (Adult Sizes)
S, M, L, XL …………… $22.00 (+S/H)
XL ………………………… $24.50 (+S/H)
Shipping and Handling Rates:
$6 for first shirt, $3 for each additional shirt
(the purchase of 3 shirts would be $12 total S/H).
Please use our order form to help support the Huber Breaker!