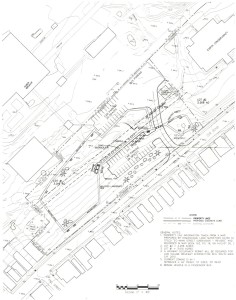 The HBPS is working towards the development of a community park that will serve to recognize and honor the memory of the thousands that worked at the Huber Breaker and its surrounding collieries. The park will include walking trails through landscaped scenery, benches for relaxing, and educational kiosks with information on the history of the Breaker and the Anthracite Coal Region. The park will be located directly in front of the Huber Breaker site, at 101 South Main St. in Ashley, PA.
There have been many iterations of plans as the society decides how to best to plan out the park.  The image above represents one of the plans.  See our Facebook site for more details on development of the park.
Please consider supporting the construction of the Huber Breaker Northern Anthracite Coal Field Miner's Memorial Park!  Our homepage has details on how you can help.